I think it's time that I escape from the upstairs and focus more on the downstairs this month, starting with the laundry room. Of course, what I think should happen doesn't always go since this isn't my house, but I am the designer and sometimes I think momma doesn't always know best (Don't tell her I told ya'll that though). With that being said, I still appreciate what she thinks should happen since I'm not the one that's going to be living here for the next ten years or so. So this is the current state of our laundry room.


Please don't judge us, but I'm sure you all know how it is most of the time when junk keeps piling up. I finally discovered that the more you enjoy a space, the more you want to be there, for example, the upstairs bathroom. Each time I get out the shower, I'm proud of my accomplishments and it makes me feel all good on the inside. It sounds like I'm in love, well I am, but back to what we were talking about. I wish my mom could have a laundry room like these, but even though that won't happen it doesn't mean that I can't get any inspiration from them.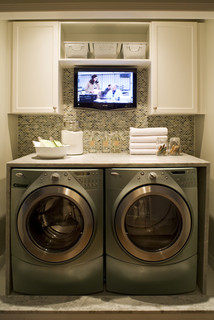 So here's what I'm thinking:




Paint it the same color as Bianca's room but add an accent wall behind washer and dryer

Make a counter top to go over washer and dryer like the one

here

or add a shelf above since heights of the washer and dryer are different

Add a rug

Hang some art

Hide the trash can or make it not an eye sore

Spread washer and dryer apart and add storage in between




Here's a mood board to allow you to see where I'm headed:
1. Thinking of getting a new light fixture because the one there now isn't doing it. Just need to decide which one is better. I like all of them so when I lean towards one I find myself fighting myself to lean towards another, so what do you think?
1a
,
1b
, or
1c
?
2. Laundry room
art
from Kirkland's of course. There will be more, but the rest I will DIY.
3. Counter top to go on top of washer and dryer or shelf to go on wall above.
4. Use the left over paint from Bianca's room and paint behind the washer and dryer with Mosaic Tile by Behr.
6.
Area rug
from Kirkland's to add color.
7.
Storage compartment
to go in between washer and dryer so that there won't be anymore pile up on top of them.
Overall, if this goes as plan, this update will cost less than $200. Not bad, but I really don't want to spend that much. The big chunk comes from the storage roller and the light. If I take those off the list, i could be looking at $120, but I really don't want to so this will just have to be one of the projects that evolve over time. I'm looking forward to some work that can be seen by a lot of people when they come over since they have to go in the laundry room to throw away their trash.
Labels: Inspiration, Laundry Room, mood board